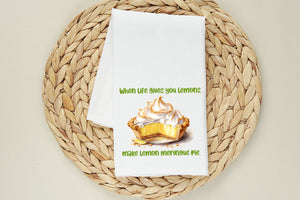 Lemon Meringue Pie Flour Sack Tea Towel, Lemon Kitchen Towel - Lemon Decor - Cotton Tea Towel - Summer Decor - When Life Gives You Lemons
Sprinkle some zest and sweetness into your kitchen with our delightful Flour Sack Towel! This eye-catching towel features a mouthwatering watercolor illustration of a scrumptious Lemon Meringue Pie.

Let it's vibrant colors and playful design bring a burst of cheer to your cooking space! And hey, when life hands you lemons, why not whip up a fantastic lemon meringue pie? That's exactly the motto we've added in bold, lively text right on the towel!

Not only is this towel a feast for the eyes but it's also crafted from top-notch flour sack fabric, ensuring maximum absorbency and long-lasting durability. It's the perfect kitchen companion for all your baking adventures!

Spice up your own kitchen or surprise a fellow foodie with a gift they'll savor. Don't miss out on the tangy-sweet fun—grab your Lemon Meringue Pie Flour Sack Towel today!