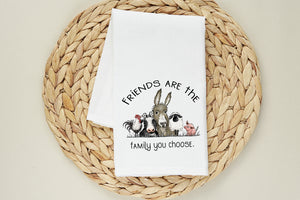 Friends are the Family We Choose Farm Animal Tea Towel - Barnyard Friends Flour Sack Towel - Donkey Cow Sheep Chicken Love - Farmhouse Decor
Introducing our barnyard gang flour sack towel, where farmyard fun meets heartfelt friendships! This delightful towel is the perfect addition to your kitchen or bathroom, guaranteed to bring smiles and warmth to your everyday chores.
Featuring a lively gang of lovable barnyard animals, this towel showcases their playful antics and undeniable charm. From the mischievous piglet rolling around in the mud to the sassy chicken strutting its stuff, these feathered and furry friends will brighten up your day.
But it's not just about the adorable characters. We've added a meaningful touch with the phrase "friends are family we choose." Because let's be honest, life is all about the connections we make and the bonds we forge with those who bring joy to our lives. Whether it's your best friend, partner-in-crime, or even your beloved pet, this towel celebrates the cherished relationships that make our hearts fuller.
Not only does our flour sack towel serve as a whimsical decor piece, but it's also incredibly practical. Made from 100% premium cotton, it offers exceptional absorbency and durability. Perfect for drying dishes, cleaning up spills, or even using as a makeshift cape for your little ones' imaginative adventures!
So why settle for a dull and ordinary towel when you can add a touch of barnyard magic to your daily routine? Treat yourself or surprise a friend with this delightful barnyard gang flour sack towel, and let the laughter, love, and camaraderie of the animal kingdom infuse every corner of your home. Get ready to experience the joy of family you choose every time you reach for this adorable towel!