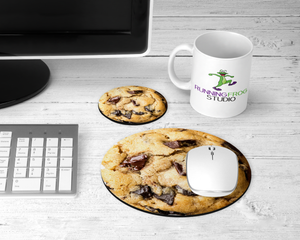 Chocolate Chip Cookie Lovers Mousepad - Keto and Paleo Friendly Cookie Mouse pad - Funny Desk Accessory - Foodie Gift
This hilarious chocolate chip cookie custom mouse pad and coaster set will make a comical addition to cookie lovers' desk. This unique mouse pad set is an affordable gift for anyone who wants to add their own personality to their workspace, whether it's a gift for you or for someone else.

Our 7 1/2" round 1/4" thick mouse pads feature a smooth fabric top for easy mouse movement and a non-skid, durable black rubber backing to ensure years of steady use. The sublimated graphic will remain soft, durable, and flexible. The 3 1/2" coasters are made of the same neoprene material and made to last.

We ship in 3-5 days.